KBT1615, this one is for you….
Upon request, I did a bit of research on blocks for the past two seasons. In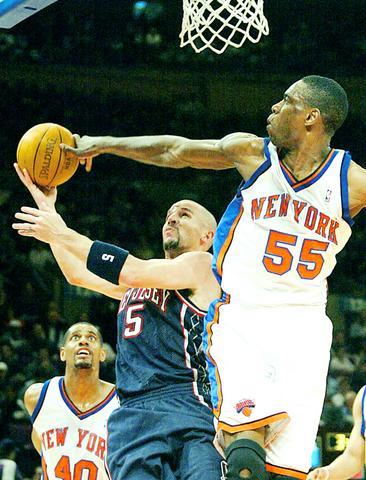 2007-2008, the Knicks averaged 2.59 blocks per contest. As a comparison, the champion Boston Celtics averaged 4.62. That season, the Miami Heat, who were the worst team in the league, averaged 4.3 bpg. This past season, the Knicks averaged a putrid 2.48 bpg, good for dead last in the league by a wide margin. Opponents averaged 5.3 bpg against the Knicks. To put this season's lack of hoop protection into perspective, let's take a look at the final four teams in the playoffs and see how they fared in the blocks department.
Nuggets: 6
Lakers: 5.12
Magic: 5.35
Cavs: 5.3
To shine more light on the Knicks deficiency, consider that Dwight Howard averaged more blocks per game than the entire Knicks roster. Ok, I understand that Howard was the defensive player of the year. Well, Chris Andersen averaged 2.46 bpg, or essentially the same number of blocks per game as the entire Knick team.
This past season, the best shot-blocking team was Golden State with 6.42. The second worst was Milwaukee with 3.75.
Tommy has made a couple of posts over the last week calling for a Camby trade. For those who are against that idea, simply look at the numbers above. Camby himself averaged 2.1 bpg. While it is not worth taking on the contracts of Tyson Chandler or Samuel Dalembert without finding a taker for Eddy Curry, it is imperative for Donnie Walsh to find a player that can block a few shots. Last season, the Knicks averaged 105 ppg and allowed 107 ppg. While this is admittedly an inaccurate science, simply consider the idea that with perhaps 1+ more averaged bpg, the Knicks might have fared a bit better this season and might have had a better shot at the playoffs.
Walsh will have to look under every proverbial rock to find himself a shot-blocker. On the current roster, I see Mo Sene as a potential start to the solution. Off the roster, I would love to see Walsh consider a few young players that are cheap and that have not blossomed quite yet.
DeAndre Jordan, LAC – With Blake Griffin coming in, Jordan falls even further on depth chart
Ryan Hollins, Dal, RFA – Who watched him play against Tim Duncan in the playoffs?
Andray Blatche, Was, (not a great shot-blocker, but has potential for it)
Ty Thomas, Chi, (I doubt this happens unless for a sign and trade of Lee or a swap of draft picks)
Darko Milicic, Mem, If they want Curry for him, then fine. Otherwise, I wonder if Q Rich could get this done. Or perhaps if Thabeet or Hill fall to 8, the Knicks can swap Duhon and their 8th pick for Rubio and Milicic. That is if Rubio makes a fuss about playing in Memphis)
That all said, I think Camby has to be a major target. Walsh likes to have shot-blockers on his teams. Even if the player does not fit the D'Antoni run'n'gun style, if he blocks shots, then Walsh has to take a look.
Does anyone have other young players that they think can be had on the cheap? My options are not the greatest, but they are the ones I thought of off the top of my head. Let's hear yours…
---
---
---
---