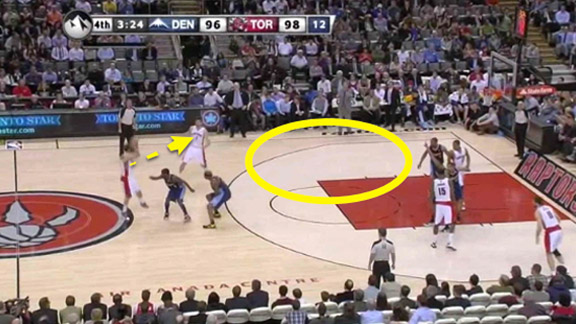 Tommy Dee
When the Bargnani deal was announced my first instinct was that I liked the move based on the fact that the Knicks were horribly dreadful in pick and pop last year. On pick and roll with Tyson Chandler, the Knicks thrived at times, but because Chandler can't shoot it hurts them against teams with lane-clogging bigs namely Chicago, Indiana and even the Nets to a degree.
From watching Bargnani over the years I assumed he was one of the game's better pick and pop bigs, so I threw the question out there on twitter and thankfully my buddy Jarrod Gillis did some research. Check out his read, it's a good one. In 2011-12 Bargnani was the game's best pick and pop big. Better than Duncan and better than Kevin Love. The Knicks desperately need help drawing bigs out of the paint to create more space and in Bargnani, in my opinion and if he stays healthy, they have it.  
"During the 2011-12 NBA season, as you can see from the chart above, Andrea Bargnani led the league in points per possession based on a minimum of 75 Pick and Pop possessions.  Now keep in mind these stats are based soley on the Pick and Pop play type via Synergy Sports Technology extensive database.  Take a look at the long list of All-Stars that fall behind Bargnani in this extremely important play type run multiple times during the course of an NBA game and season.  Tim Duncan, Kevin Love, Kevin Garnett, LaMarcus Aldridge, Marc Gasol even former Knick David Lee, all trail Bargnani in points per possession which in essence is one of the more notable and realistic metrics used to gauge the efficiency of a player's skill set.

Ultimately, the points-per-possession metric is a tremendous indicator of how a player maximizes an offensive possession.  In Bargnani's case, although the sample size during 2011-12 was relatively small in terms of games played, he not only was the most efficient player in Pick and Pop play types, but he scored the most points per game and got to the free throw line the highest percentage out of all players in the league.

Understanding the metrics listed above help explain why Bargnani is such a sound option running Pick and Pop action.  Now whether he can stay off the injured list for an extended period of time is a whole other story entirely.  Back to the numbers.

As you'll notice Bargnani scored the highest PPP in the league at 1.022 in 2011-12.  Points per possession is calculated by dividing a player's total points by their total possessions.  In this case, each player's PPP listed is based solely on Pick and Pop play types."  Bargnani achieves such a high rating because he attempts more three-pointers than most of the players listed while also showcasing an uncanny ability to entice defenders into fouling him while shooting off Pick and Pop action.