Tommy Dee
I got an advanced copy of Earl Monroe's book titled Earl The Pearl in the mail a few days ago and I cracked it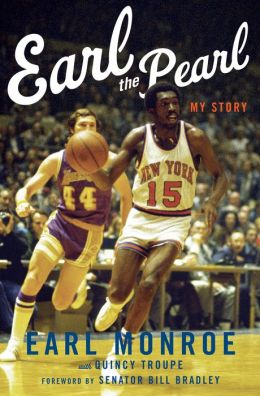 on the commute this morning.
Earl's Knicks career was before my time but his legacy is certainly one that I'm familiar with. When I think of Earl, I think playground legend and man of the people. I think of him parting fans at local blacktop courts like Moses parting the Red Sea. He was the perfect combination of flash and substance in the same way Magic Johnson did… at least in my mind anyway.
Pearl has made a great comeback this year on television as well as around MSG as the Knicks have committed to reaching back out to the legends that are the back bone and cornerstones of the franchise. Monroe's uncanny ability to make the necessary sacrifices and his ability to play along side Walt Frazier allowed for the Knicks to win their 2nd championship of the early 1970s.
His journey is an amazing one and worth reading, especially during this time of year.
"Written with bestselling author Quincy Troupe (Miles, The Pursuit of Happyness) Earl the Pearl will retrace Monroe's life from his upbringing in a tough South Philadelphia neighborhood through his record-setting days at Winston-Salem State, to his NBA Rookie of the Year season in 1967, his tremendous years with the Baltimore Bullets and ultimately his redemptive, championship glory with the New York Knicks."
Finger point to the great Joe Favorito…