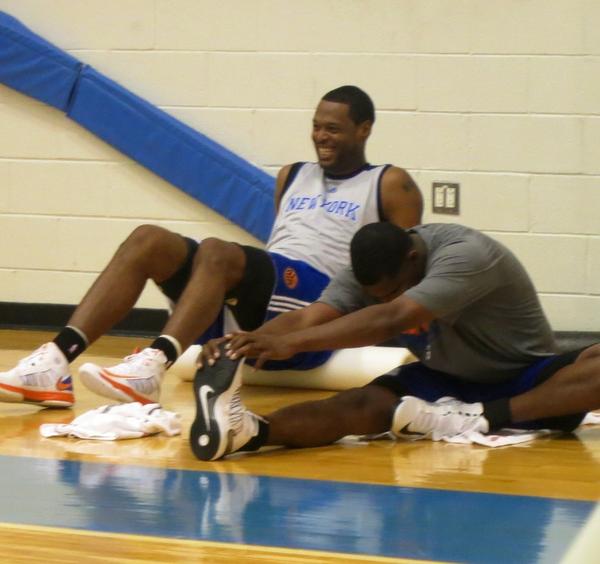 Tommy Dee
For year's I've had to listen to fans yell and scream about Mike D'Antoni's disregard for defense and how he wasn't fit to coach the Knicks brand. Fast forward quickly to 2012-13 and what I noticed right away was a vibe dedicated to defense and 100% focus. This is not to blame D'Antoni, who navigated a team through a tough two seasons as the Knicks climbed their way out of rock bottom.
The Knicks are all in. Their roster tells you so. It's not an easy challenge, not when you consider the Lakers and, of course, the heat but this team seems more focused than in years past. And that's not so much of a compliment, considering we're not far from the training camp days of trying to find Eddy Curry and Nate Robinson's antics. Not far removed from Jerome James and Chris Duhon. Not knocking these players as much as I am saying that they all knew they would be short term solutions that would be absorbing a ton of loses.
And the age thing for me is not a big deal until a player gets hurt. Jason Kidd uses his head on the court and is a spot shooter. Prigioni is in better shape than your average NBA 35 year old. Ask yourself would you rather have Bibby or Kidd? Camby or Turiaf?
From the minute the doors open at the practice facility in Westchester today there was talking and communicating and more talking. Mike Woodson was putting his team through what is known as a defensive shell drill with double teams in the proper crevasses in the half court- at the short corner and in the far corners.
After the drill was over the team huddled together and sang happy birthday to Tyson Chandler. Everyone seemed to be  in a good mood and the vibe was professional and clean. The messages have been about focus and teamwork.
It's only day one, but that's the sense that I got.
---
---
---
---