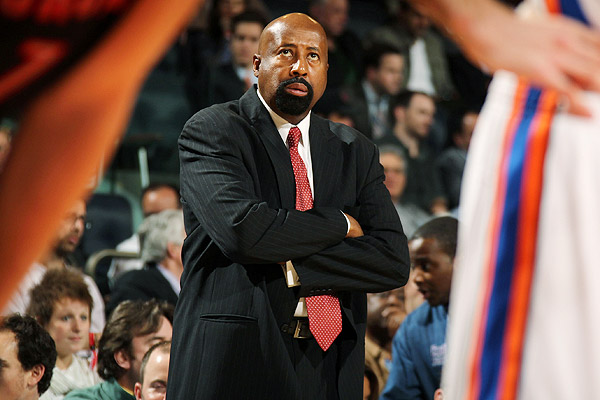 "I had dinner with him just this last week in New York," Woodson told me in his office after a recent practice. "We sat and chatted for about three hours. We talked basketball. What better advice to take? He's done everything you could possibly do in basketball, and done it as good as anybody who has ever coached the game. How do you not respect Bob Knight?"

Woodson has more than just respect for Knight. He says he owes his whole life to him. (He showed me a picture of himself with Knight, though the most prominent photo in his office is golf-related.) Woodson was born in Indianapolis; his father died when he was 13, and his mother was a nurse. In Indiana, basketball is essentially a religion practiced from birth. Woodson has joked that he was raised by the motion offense. He was heavily recruited at Broad Ripple high school, the same school that David Letterman had attended a few years earlier. ("I'd love to meet him now that we're in the same town again," Woodson says.)

In 1976, Woodson agreed to play basketball for Knight at Indiana University. Knight promised Woodson three things: a quality education, a first-rate basketball team, and a summer job. "All three came true," Woodson says. "I worked every summer, I got better as a basketball player, and I got a degree. You follow people like that."
Tommy Dee
You read about
Phil Jackson's interest in the Knicks here this past summer,
and it still baffles me that the Knicks didn't at least interview for the postion. With that said, I now think Mike Woodson is the right man for this job. I talked to someone who was at a coaching clinic that he ran the other day for local coaches and he couldn't have left more impressed with what Woodson sees and preaches.
Woodson was a wing player who could score. He's not your standard ex-point guard coach. Therefore, he sees the game more from a perspective that Carmelo Anthony can understand and, like Bob Knight, he demands accountability from his players. Based off of Melo's performance under Mike D'Antoni last season, he has no choice but to perform under Woodson and follow his demands. This star-coach relationship is not only healthy for the team, but it's healthy for the locker room something that the Knicks must have if they are going to have any sort of post season success.
Lastly, in order for Melo and Stoudemire to work, Woodson will have to isolate the floor for them to run pick and roll, something we've talked about at length here. We've also seen the Knicks have great success, albeit it under D'Antoni and for a brief game, but this is the model that will bring the Knicks to great heights. If you remember the following game, you remember watching them and thinking, "this team is really playing at a very high level." Woodson would be wise to incorporate such offensive wrinkles.