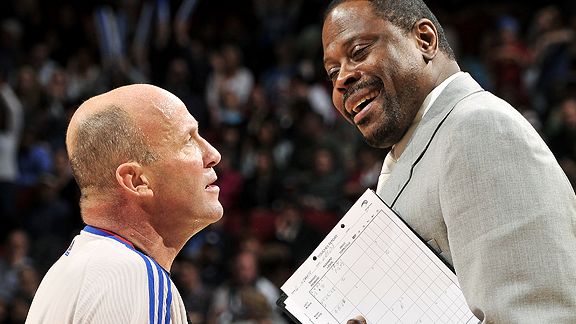 "The initial reaction to news that Basketball Hall of Famer Patrick Ewing was miffed at the suggestion that he coach New York's D-League affiliate was typical, and not without merit. Ewing, who for years has assisted on coaching staffs headed by Jeff and Stan Van Gundy, isn't owed an NBA head coaching spot. A gig as a head man in the D-League is no minor accomplishment, and it would give 30 potential NBA teams a chance to evaluate Ewing's skills at the top of the bench. Add in the New York angle, with former teammate Allan Houston serving as GM of the Erie Bayhawks and reportedly offering Ewing the job, and you would think the hiring would be a logical move, and a strange turndown from Ewing.

Don't kill the guy, though. You can call him pampered or delusional or point out that he may have just skunked whatever chance he had to be an NBA head coach, but just as image is everything to NBA GMs looking for their new coach, it runs the same for Ewing. His coaching game doesn't need any developing, according to Patrick, and he surely sees the D-League as beneath him. Perhaps this isn't Ewing's smartest move, but it's also not as easy a move as you and I would assume it."
Tommy Dee
A lot has been made of this and I have some thoughts
going back to March on the subject
. In fact, I was in favor of Patrick getting groom to succeed Phil Jackson had that conversation actually taken place.
First off, there's no coincidence in the fact that with both Van Gundy's out of the league, Ewing is on the hunt for a job. Jeff admired Patrick exponentially, and rightfully so. Patrick forced the Knicks hands in hiring him.  Secondly, I'd love it as much as anyone to see the big fella back at the Garden every night. I've always held Patrick on a pedestal versus those fans who thought he just wasn't good enough. The man embodied what a franchise player should be. To me, he's one of if not THE most under appreciated athletes in New York history.
Which brings us to this. Donnie Walsh convinced the owner that they were trading for his son a few years back, so this isn't a gripe with Dolan. That was a favor and that was out of respect. Unfortunately, the younger Ewing's knees couldn't hold up.
Ironically.
Ewing's good friend Herb Williams currently occupies where Ewing would sit and share the same responsibilities. It would be redundant. I'm bothered by Ewing's disdain for the Development League. It would be a place for him to not only develop the skills of young and unpolished bigs, an idea that has been lost for many years thanks to AAU, but it would allow for him to develop in-game adjustments, play calling situations and the respect of the most important part of the craft… the TEACHING. That would get him more interviews and more opportunities at the NBA level AND endeer him within the organization.
Saying no seems spiteful.