Several sources with knowledge of the situation have informed me that Nate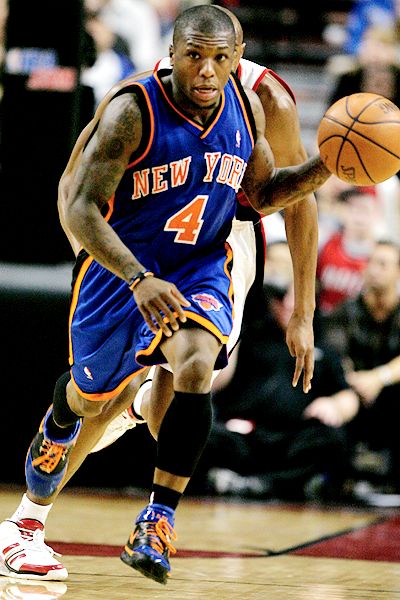 Robinson has been telling people he wants to head back to the Pacific Northwest and sign an offer sheet with the Portland Trailblazers.
"Nate's been telling people he doesn't feel he'll be around New York much longer," the source told TKB. " He wants Portland, he wants to go closer to home."
But at this point, another source close to Blazers tells me,  there is no interest from the Portland's end. Portland desperately wants to add a veteran lead guard, which will allow superstar Brandon Roy, and Nate's childhood buddy, to play the two. They feel it is his natural position.
I'm also hearing that Roy hasn't  gone out of his way to endorse Robinson. Roy knows a veteran one would be a huge addition.
Much like Denver, who added Chauncey Billups, and even Dallas who brought  in Jason Kidd, the Blazers feel a veteran quarterback will allow them to take the next step in next year's playoffs.
That player, as we said around this past trade deadline, is free agent Andre Miller. I have learned that the Blazers had a deal in place for Miller at the deadline which would have sent Steve Blake and Travis Outlaw to Philadelphia, but the deal was shut down by the Blazers at the last minute.
But Miller will not be easy to get even though the Blazers have some cap space. Sixers GM Ed Stefanski will likely want to keep Miller as they are a win- now team having brought in Elton Brand for big money last year. It would be hard to believe that the Sixers would start the year with a new point guard even if it meant parting ways with Miller. But like Donnie Walsh said about Nate and David Lee, players are good at one number and not at another.
But that remains to be seen, and for the time being there doesn't seem to be any room to bring in Robinson, which begs the question: if Nate can't get a deal from his hometown team, what is his market value?
It would also seem that his time in New York has run out with the Knicks poised to take a guard in next month's draft. We've learned Nate has been saying his goodbyes around New York. He even offered the following Twitter message (his location reads "NY…for now") following his exit interview with Walsh and coach Mike D'Antoni.
"…got out of my exit meeting with my coach and i hope iam playing 4 the knicks next year if not it was fun and it was real being a knick 1 luv.."
This situation will be part of what is sure to be a busy off season, especially for the Blazers who appeared to be active at the trade deadline this past season, but ultimately decided to hold tight. They may look to move point guard Blake and the oft-on-the-block  Outlaw.
Should Miller stay in Philly and the Blazers fall short of upgrading, they may look to bring in Robinson, but for the time being because of a jogjam of guards which includes Blake, Sergio Rodriguez and Jerryd Bayless, who they are NOT shopping, it would seem that bringing in Robinson would make little sense. Again, they are looking for veteran leadership with the ball. Without Miller, the Blazers may look to add Nate's scoring punch off the bench, but it seems, at least for the time being, that Nate and his agent should be looking in a different direction. Now, Nate can still technically accept the qualifying offer, but that seems unlikely based on the fact that he feels he's due for a big payday. Where that comes from, I have no idea.
As far as Lee goes, it would seem that he is a venerable lock to stay here for a reasonable contract. Lee will field offers, but prefers New York because of the Orange and Blue, but also because his girlfriend Sabina Gadecki, of World Poker Tour fame, has been focusing on her career in the Big Apple. Based on the economy and Lee's love of the city, I'd be shocked if he didn't return.
We know Walsh is a patient man and there is no decision that gets made without incredible detail and you can bet that he will test the sign and trade waters before committing.
But from what we're hearing, it seems pretty definitive that Nate will not be a Knick in October and Lee will likely stay for a reasonable deal, unless the right trade comes along.
---
---
---
---