Originally posted on ZagsBlog.com: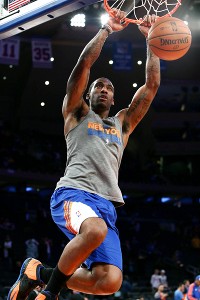 NEW YORK — Perhaps lost in Carmelo Anthony's 42-point outburst and game-winning three-point play Sunday night against the Atlanta Hawks was the continued progression of Amar'e Stoudemire.
Stoudemire went for 18 points, eight rebounds and one block in the Knicks thrilling 106-104 victory.
Stoudemire scored eight points in the fourth quarter, including six straight at one stretch and two key foul shots that gave the Knicks a 103-102 lead.
"It's a matter of getting rhythm back," Stoudemire said of his play in the low post. "Experience is the best teacher. The more I'm out there the better. My rhythm becomes easier for me. I am just trying to take my time and progress as the games build up."
View original 216 more words
---
---
---