Tommy Dee
I'm not shocked at the reaction of several members of the content community who literally despise the Bargnani deal. And while some others, like our good friend Chris Herring of the Wall Street Journal, make solid points about Bargnani's inablity to shoot
league average from 3 point range over the past few seasons
 there are other reasons to believe this trade is a solid one for the Knicks.
I think we can agree that Steve Novak, a player who came literally from nowhere to become an instant fan favorite, did not have a great year last year. And defensively he was absolutely dreadful. Comparing Bargnani to Novak, even shooting wise, is a tough sell here. Novak had moments this year where he was completely invisible, missed key wide open looks and was a mismatch every time down the floor. Frankly, when he wasn't making shots he wasn't an NBA player. Any way you slice it Bargnani is an upgrade.
He'll be an upgrade to Camby as well considering Camby never played.
If you want to get on the Knicks for giving up draft picks, fine. But if you're going to complain about those consider you traded late 1st and 2nd rounders for the former #1 overall pick in the entire draft who is only 27.
But let's look at some stats. What if I told you that Bargnani was 2nd in proximal FG% IN THE ENTIRE LEAGUE behind Larry Sanders? I can explain what that means, but it was a well publicized presentation at this past year's Sloan Conference for metrics junkies. The Knicks needed better post defense against Indiana this year and the notion that Bargnani is the world's worst defensive big is obviously inaccurate, at least according to the Sloan analysis.
Speaking of Indiana, wouldn't it have been nice for the Knicks to run a pick and roll at Hibbert and not have him sit in the paint waiting to snuff the basketball at the rim? Remember the Knicks ineptitude against the Bulls and having to watch Noah do the exact same thing to the combo of Felton and Chandler? Teams have success against the Knicks because they snuff out pick and roll by clogging the paint around the rim. Why? Because Tyson Chandler can't shoot jumpers in pick and pop. I'm not sure what the numbers in this case but Bargnani and Kyle Lowery were on this short list of solid pick/pop duos. And that will ABSOLUTELY help the Knicks.
Hey, don't listen to me, listen to Grantland who raved about his versatility in the pick and roll/pop.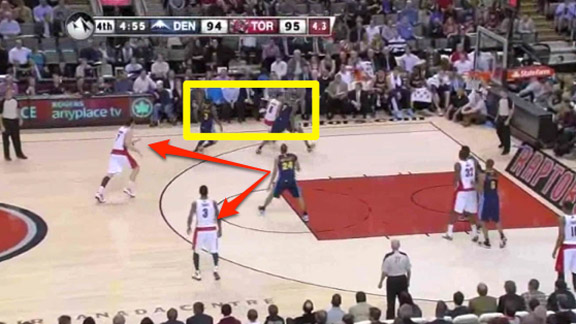 "As Calderon comes off the screen, he is looking to turn the corner and get to the front of the rim. This forces Al Harrington, who is hedging on the screen, to stay with Calderon longer than he likes. Meanwhile, after rolling to the rim on the first pick-and-roll, Bargnani pops out this time, ending up out near the 3-point line. This puts Andre Miller in a really tough position. He's responsible for his man, Gary Forbes, but he also should be ready to leave him and close out on Bargnani in case he makes the catch. To do that, Miller splits the difference right at the 3-point line."  READ MORE
Lastly, I totally understand Bargnani doesn't cure the Knicks rebounding woahs that plagued them against Indiana but last I checked the offseason has just started. I would be looking for a rugged 4 who can shoot from 15-18 as well. The Knicks know they need to address rebounding and I'd expect them to.
The Knicks are better with Bargnani, particularly against teams they struggled against this season. Namely Indiana and Chicago, teams they will unquestionably have to face in the playoffs if they want to get to the Eastern Conference Finals. Plus, you're getting a player with all-world talent at a time where the game has never been more Euro-fied and will continue in that direction who desperately needed a change of scenery.