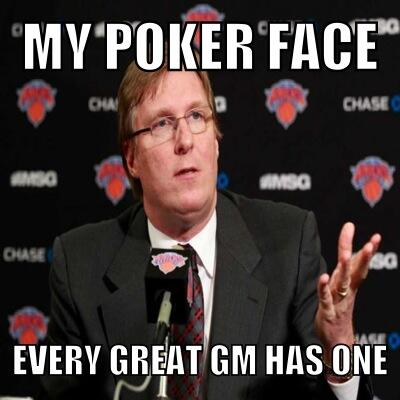 "If The Knicks were a blackjack hand, they'd be an 18. It's a good hand, not a great hand. No matter what the dealer was showing, you'd get a chorus of groans if you decided to hit on it. The dealer would make sure you were serious. The pit boss might come over for an opinion. You sure, sir?

Well, if you play by the book, you sit, you stick with your 18, even if the dealer has a King, even if you know, in your heart of hearts, that the odds say another face card is sure to come. And when that happens you shrug your shoulders and you move on. If you're sitting at the table, you're probably in for a couple hundred hands.

 And that's the problem with the Knicks."
Tommy Dee
Vacc makes a strong point, but here's my thing, I think Grunwald is playing a different card game.
Poker.
What's lost yesterday is the actual message and that happens more often than not, especially in this day and age in the media. It almost seemed as if the tone in a lot of the questions to Glen Grunwald was steering him into the direction of "it's impossible to make the team better, right?"  To which, Glen responded "Yes, but, actually, really, no."
Grunwald said the knicks can't acquire anyone in a sign and trade. Said the focus is on continuing to build the core.

— Al Iannazzone (@Al_Iannazzone) May 21, 2013
When asked on ESPN Radio, however, Grunwald said the opposite.  
"You can trade players, but I don't think that's our focus," Grunwald said Tuesday when asked about the possibility of a sign-and-trade. "Our focus is to continue to build this core team. Some continuity, some familiarization, further growth as individuals and as a team, I think that's what we have to do."
So think about what just happened there. Utter confusion. The Knicks CAN make a sign and trade this offseason and Glen said as much. We know the Knicks have gone at great lengths to remain flexible, but what Grunwald just said was that their focus will be on the "core" of the team.
Complete and udder hyperbole.
The follow up should have been, "Well who do you consider those core players?" The answer to who that core is aside from Melo and Tyson Chandler is anyone's guess. Could they make a sign and trade to add to that core? Absolutely. Is it likely? Who really knows? Who knew that Grunwald would be able to make the Chandler deal a few years back a deal absolutely no one saw that coming and whether you were a fan of it at the time or not, you have to say it was a pretty sly move from the Knicks quiet and unassuming GM.
Many people will talk about Glen's relationship with Isiah Thomas, but he really sharpened his executive skills when Donnie Walsh was here as the team put together the plan that led to this 54-win season. Walsh was known as a pretty good poker player leading up to the Melo deal.
In my opinion I simply don't see this team standing pat. Too many signs point to them making improvements. They've been strict and disciplined from a cap space perspective, I believe, for a reason and the biggest decision off the bat is what to do with JR Smith, whom Grunwald was non-committal when talking about yesterday. 
"I'm not going to comment on any individual player because we're not finished with our evaluation," he said Tuesday. "I don't think you should read that one way or another [about Smith].
Got that? JR may or may not be back with the Knicks next year but the better question, again, is is he really a "core" member? Is Shumpert? You'd think after several playoff outbursts overshadowing an overall pretty average playoff series numbers-wise, you'd assume he definitely is. But don't Shump and JR play the same position? It would stand to reason based off what you saw in that 3rd quarter that you'd like to give Shump more minutes next year and, while you could play him with JR at the 2/3, I don't think that fits with what Glen said about them wanting to play bigger with Melo.  I don't think that matches with Woodson's plotting "protect possessions" at all costs philosophy especially when you consider Jason Kidd's value in that offensive mindset. Granted, you'd expect Kidd's minutes to drop and Pablo Prigioni may go back overseas, but are the Knicks ready to commit 30-35 minutes per for both Smith and Shump?
"Grunwald said the Knicks may look at offensive sets that feature Carmelo Anthony at small forward next season. Anthony played almost exclusively at power forward this season. He was able to exploit matchups against bigger, slower defenders en route to his first NBA scoring title. 

But Grunwald said the Knicks may look to play bigger lineups next season that would feature Anthony at small forward, his natural position. 

"I think that's something [Woodson] can look at next year," Grunwald said.
Don't forget they also have a first round pick to add to the rotation too. If you commit to JR for 4 or 5 years what does that say about Shumpert, who is ready to pounce on his 3rd year as he pushes for a new contract? Shumpert's camp reportedly caused a stir with his usage already and if he's going to get a bigger contract he needs to put up bigger numbers and with bigger numbers he'll need more shots and obviously more minutes. Doesn't it stand to reason that JR may stand in the way?
The bottom line is I believe Grunwald has a plan and that is to obviously improve the team. We've seen him fly under the radar and execute on deals before. Despite people, especially in the media, believing that the Knicks are stuck and don't have any ways to improve, I choose to believe that the team knows the clock is ticking and has remained flexible for a reason.